It is undeniable that digital transformation is sweeping across the globe. Today, digital applications permeate all aspects of our economies and societies, enabling us to sell and purchase goods, access government services, play games, listen to music, watch movies, travel more efficiently, and so on. The current coronavirus pandemic has also demonstrated the need to utilize and manage these platforms and services more effectively. It has also raised concerns over the way we promote the digital economy and regulate these digital services and their related broader consequences, for example how data is collected, stored, processed, and shared. This is why the World Bank together with the International Telecommunication Union (ITU) have launched the Digital Regulation Handbook and Platform.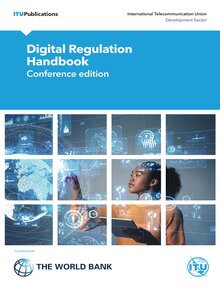 We are pleased to present ICT Regulation Toolkit and the associated Telecommunications Regulation Handbook. The content in the new Handbook provides an update on the basics of ICT regulation in light of the digital transformation sweeping across sectors and includes new regulatory aspects and tools for ICT regulators to consider when making regulatory decisions. Alongside the Digital Regulation Handbook, a new online Digital Regulation Platform is being developed to update and revise the ICT Regulation Toolkit.
The Handbook and Platform reflect the evolution of the regulatory landscape across the world over the past twenty years – from telecommunications regulation to ICT regulation to digital regulation. This new edition of the Handbook is in its third edition, updating the tenth anniversary edition of the Telecommunications Regulation Handbook published in 2010.
The Handbook consists of nine chapters: Regulatory governance and independence; competition and economics; access for all; consumer affairs; data protection and trust; spectrum management; regulatory responses to evolving technologies; technical regulation; and emergency communications.
The platform acts as a further resource for policymakers, regulators, the tech industry and consumers. The World Bank and ITU team would like to thank all the authors and contributors this initiative.
The content of the Digital Regulation Handbook and Platform benefits from generous funding from the Digital Development Partnership (DDP).
For any comments or inquiries, please contact [email protected] or [email protected]