Unemployment Claims
Total claims filed under state and federal programs rose for a fourth week in a row, which means that the labor market is not healing but deteriorating again. In fact, claims data worsened on every metric except for the number of state filings on a seasonally-adjusted basis, which was unchanged from the previous week.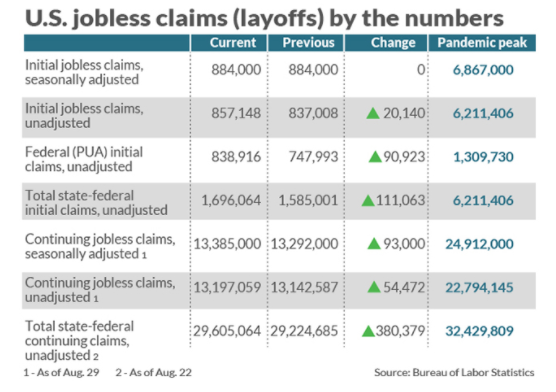 Source: MarketWatch
Claims started to rise shortly after enhanced benefits for the unemployed ended, which I do not see as a coincidence. The end of those benefits resulted in a huge decline in personal income, which inevitably impacts retail sales and overall consumer spending. The decline in spending results in more layoffs. It is also notable that half of the jobs we have recovered since the unemployment rate peaked in April are part-time. These are the workers that are likely to lose their jobs for a second time when business slows.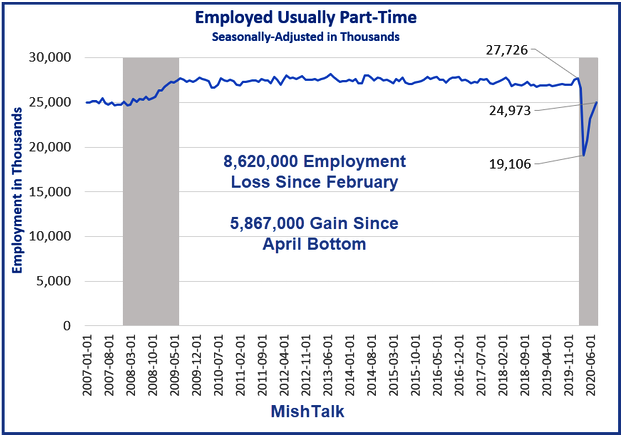 Source: MishTalk
The most disconcerting aspect of last week's report was that continuing claims are approaching 30 million, which is not far from the peak of 32.4 million. This is not consistent with the 8.4% unemployment rate advertised by the Bureau of Labor Statistics, but one that is closer to 19%.
Consumer Price Index
Rising for a third consecutive month, the Consumer Price Index climbed 0.4% in August, driven largely by a spike in the prices of used cars and trucks. The August increase follows two months of 0.6% increases. This results in a year-over-year increase of 1.3%, which is up from 1% in July. The core rate, which excluded food and energy, rose to 1.7% over the past year. It has now risen at a 5.1% annual rate since May, which is the fastest three-month period since 1991. That is probably not sustainable, especially once we get through the pandemic, but it is something to keep an eye on. This comes after the Fed recently warned of the deflationary impact from the pandemic, which is why it has promised to keep interest rates lower for longer.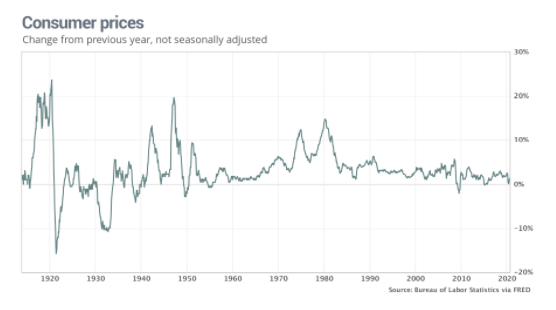 If the Fed is targeting a rate of inflation above 2% that will balance out the extended period during which it was below 2%, it better keeps its eye on wage growth. Average hourly earnings were flat in August, following declines in June and July, resulting in a year-over-year real increase of 3.3% when we adjust for the 1.3% inflation rate. This sounds good, but the increase in wages is largely due to millions of low wage workers falling off the payrolls. As these workers come back, wages gains will decline. If the rate of inflation continues to increase, it is likely we will back to negligible gains in real income.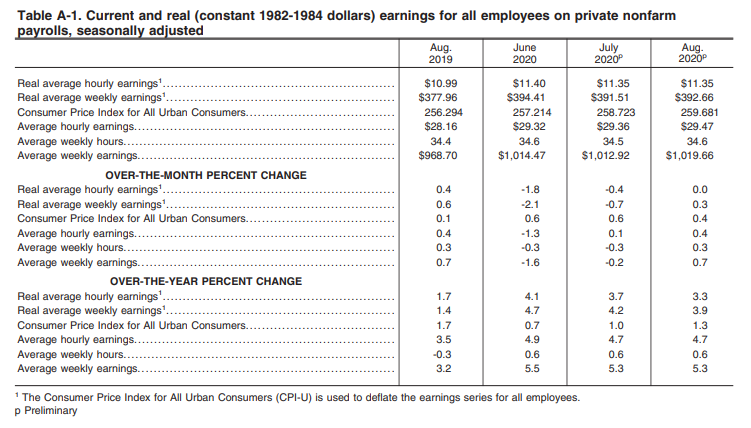 Conclusion
This recovery continues to look like a K more than any other letter in the alphabet because as the investor class profits, the working class falls ever farther behind. On Wednesday, we will hear Chairman Powell talk about how the Fed will support the economic recovery by continuing to inflate financial asset prices. That's great if you are an investor, but it doesn't do squat for the 50% of American households that don't have any savings.
There looks to be one final effort to assist the unemployed before the election in November. A group of 50 House Democrats and Republicans, calling themselves the Problem Solvers Caucus, have arrived at a $1.5 trillion bipartisan compromise for economic stimulus. Secretary Steven Mnuchin has indicated that the White House could support the proposal, but members outside this caucus on both sides have reservations. This comes despite the proposal splitting the difference between two of the most difficult issues, which are aid to state and local governments and enhanced unemployment benefits.
Congress is scheduled to recess for the election in two weeks, so if this proposal fails, we run the risk of seeing the economy contract again in the fourth quarter. Personal income and consumer spending reports for August and September are likely to show declines, which will instigate additional layoffs as we approach year end. The stock market's performance is not an accurate gauge of the state of the economy.
Lots of services offer investment ideas, but few offer a comprehensive top-down investment strategy that helps you tactically shift your asset allocation between offense and defense. That is how The Portfolio Architect compliments other services that focus on the bottom-ups security analysis of REITs, CEFs, ETFs, dividend-paying stocks and other securities.
The Portfolio Architect was defensively positioned at the beginning of this year in anticipation of the bear market that followed, but were you? If not, consider a two-week free trial to see how it may help you be better positioned for the next major turning point in the markets.
Disclosure: I/we have no positions in any stocks mentioned, and no plans to initiate any positions within the next 72 hours. I wrote this article myself, and it expresses my own opinions. I am not receiving compensation for it (other than from Seeking Alpha). I have no business relationship with any company whose stock is mentioned in this article.
Additional disclosure: Lawrence Fuller is the Managing Director of Fuller Asset Management, a Registered Investment Adviser. This post is for informational purposes only. There are risks involved with investing including loss of principal. Lawrence Fuller makes no explicit or implicit guarantee with respect to performance or the outcome of any investment or projections made by him or Fuller Asset Management. There is no guarantee that the goals of the strategies discussed by will be met. Information or opinions expressed may change without notice, and should not be considered recommendations to buy or sell any particular security.