Built by the French railway technology company Alstom, it will host a 90-metre-long digital wall for train operation, said to be the second largest in Asia.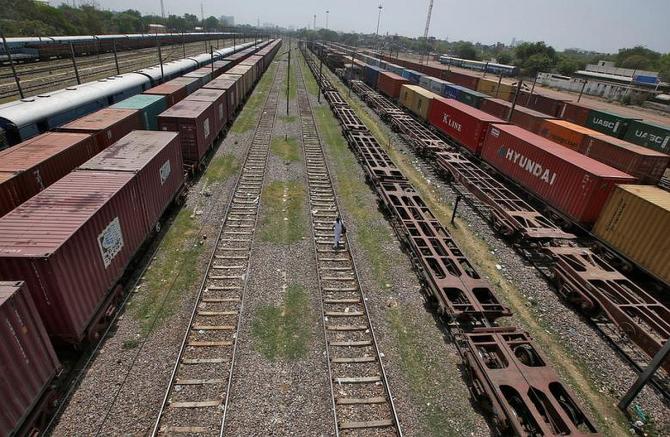 IMAGE: A man walks on a railway track as freight trains are parked at Tughlakabad railway station in New Delhi. Photograph: Adnan Abidi/Reuters
Prayagraj, the venue for the Kumbh Mela, is poised to add another distinction to itself.
The city, earlier known as Allahabad, will soon house one of the world's largest operation control centres (OCC) as part of the Indian Railways' ambitious Dedicated Freight Corridor (DFC) programme.
Once fully operational, the centre, spread over 4.2 acres, will function as the nerve centre of the entire 1856-km Eastern DFC (EDFC).
Built by the French railway technology company Alstom, it will also host a 90-metre-long digital wall for train operation, said to be the second largest in Asia.
The automated goods trains running system will be monitored round the clock, and some 250 staff members are expected to man the OCC's control room at all times.
"We have built one of the world's largest operations control centres in Allahabad for Indian Railways.
"This command centre will monitor freight trains along all the six corridors of the EDFC," says Alain Spohr, managing director, Alstom India and South Asia.
In July 2015, the Dedicated Freight Corridor Corporation of India (DFCCIL) awarded a Rs 1,497-crore contract for civil works, power supply works, electrification, signalling, and a telecommunications system over 343 km, along with the eastern phase of the DFC.
Alstom, which won the contract, also built the sub-stations and a control centre.
This will be a vital part of the Rs 30,000-crore EDFC.
Once it is up and running, the OCC will be a one-stop centre for controlling and monitoring trains.
Signals, electrical substations, access into the substations and every other operation on the EDFC will be monitored and controlled by it, significantly reducing downtime.
"Built on Alstom's ICONIS signalling platform, it enables seamless supervision and control, offering the Integrated Train Management System (TMS) for the first time in India," Spohr adds.
ICONIS (Integrated Control and Information System) is a user-friendly network monitoring and controlling system which gives railway infrastructure managers complete control over their network operations, leveraging Internet-of-Things (IoT), cloud- and sensor-based technologies and a digital dashboard.
Alstom says the OCC will monitor the movements of all trains along the eastern corridor, ensuring that it gets direct communications from various sections on tracks, trains and stations.
Moreover, the OCC will host the second-largest world-class digital wall in Asia for train operation, with officials monitoring the TMS and SCADA (Supervisory, Control and Data Acquisition) data on a 24×7 basis.
SCADA refers to control and management solutions in a variety of industries.
The system collects data from various monitoring and control points and processes it at a central computer.
In the case of the EDFC, the SCADA system will enable traction controllers to monitor, control and remotely operate power supply equipment at traction sub-stations, sectioning and paralleling posts and sub-sectioning and paralleling posts.
It would also allow monitoring and control of other auxiliary sub-stations and equipment such as fire alarms at stations, depots and the OCC from a single location.
ICONIS draws together all the relevant operational data in real-time, allowing controllers to assess situations and swiftly resolve issues.
By tracking and recording routine operations, the platform also offers a repository of data to help pinpoint recurring problems and determine best practices to further improve efficiency, says Alstom.
As for the telecommunication system, it will provide the necessary communication channels for carrying voice, data, and video signals for management control and operations.
Alstom has also built a VoIP (voice over internet protocol) as a fallback option to ensure seamless connectivity.
A similar control system is coming up in the Western DFC at Ahmedabad.
Once the DFC starts functioning, goods and passenger traffic will get segregated into individual tracks.
This is expected to boost passenger movement by enabling Indian Railways to introduce more passenger trains.
Moreover, it will allow goods trains to travel at  higher speeds – locomotives for the DFC are designed to travel at 100 km per hour, with a minimum speed of 75 km per hour.
It will also lead to fewer greenhouse gas emissions, as it facilitates the operation of electric trains.