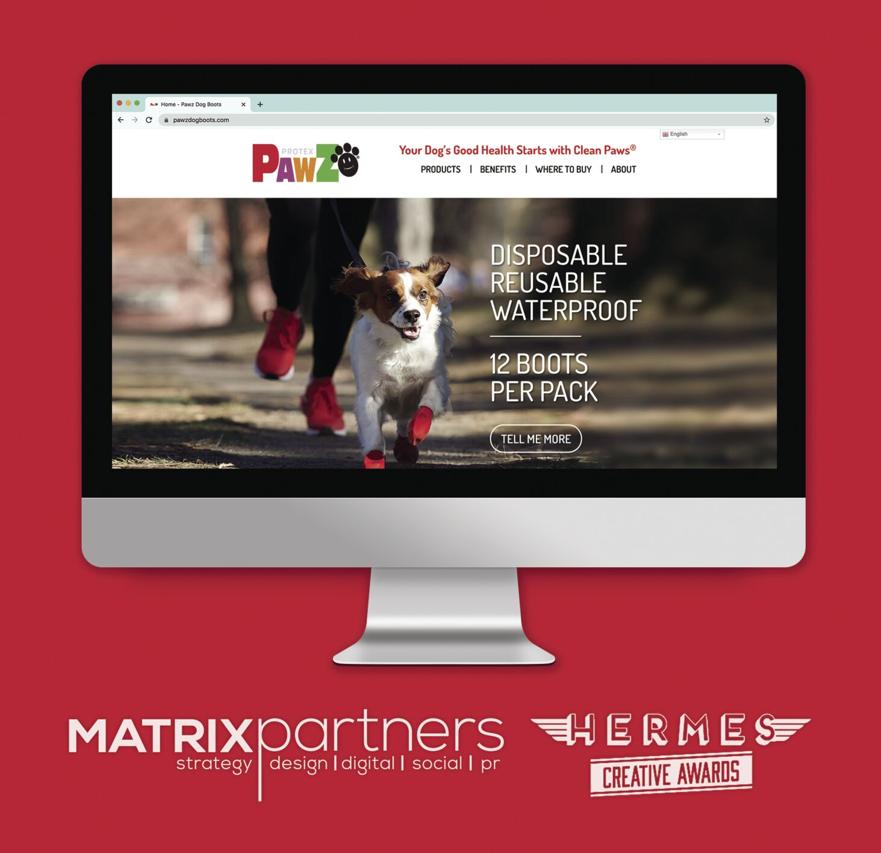 Matrix Partners, a full-service agency that focuses on pet product marketing, recently brought home a gold Hermes Creative Award for its redesign of the PawZ Dog Boots website. Matrix Partners competed against about 6,000 other entries throughout the United States and internationally.
The Hermes Creative Awards, which is administered by the Association of Marketing and Communication Professionals, honor creative professionals striving for excellence through originality, quality and execution. Featured are creative works from categories involving the writing and design of traditional and emerging media, all of which seek to exceed expectations and impress esteemed individuals in the industry, according to officials.
The project included designing, programming and SEO to facilitate a heightened customer experience. The goal for PawZ, a manufacturer of products to keep dogs' paws healthy and protected, was to improve site engagement. Matrix Partners met this objective by adding new lifestyle photos, enhancing messaging and simplifying navigation, officials said in a statement.
"Our design team worked hand-in-hand with PawZ to optimize content and elevate search engine rankings," said Rebecca Tomala, vice president of Matrix Partners in Chicago. "We also incorporated testimonials from pet owners, and even added a live Facebook feed to the homepage to make their social media presence more prominent. Any addition or renovation to the site was carefully coordinated to enhance the general site experience for visitors and make it easier for them to connect with the product. We also wanted to seamlessly direct consumers to both e-commerce sites and brick-and-mortar stores."
Aside from general website improvement, PawZ's intent was to introduce the brand's new line of SaniPaw Spray & Wipes by generating influential content and presenting it in an eye-catching manner, according to officials. Matrix Partners officials said that they achieved this by updating the homepage slideshow and banners to feature the new line and by creating a product intro page.
"With these initiatives in place, the Matrix team was able to subtly advertise PawZ's freshly released line without compromising the site's functionality and efficiency," officials said.