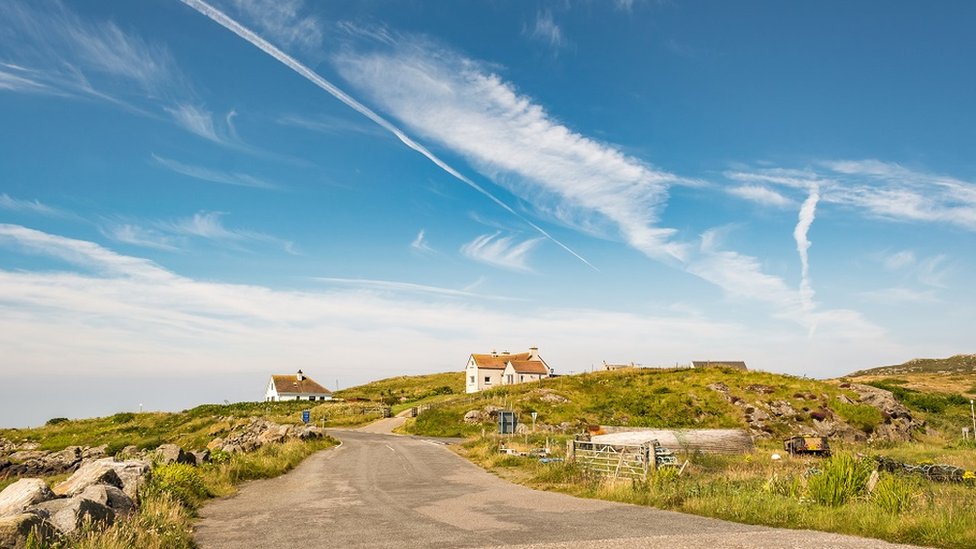 Community figures have warned that rising property prices in the Hebrides and Skye are preventing locals from buying a home.
In an open letter they described the situation as akin to an "economic clearance" that was threatening the sustainability of the islands.
They said young islanders could not compete with offers made by buyers from elsewhere in the UK.
It follows claims parts of Scotland are seeing a post-lockdown property boom.
The uptick in interest has been put down to previously office-based staff being able to work from home and perceived lower rates of Covid-19.
Pandemic driving 'exceptional interest' in Scots homes

Gaelic language in 'crisis' in isles heartlands
Islands to receive £100m in government investment
The letter's signatories – which includes crofters, development officers and Gaelic campaigners – said 40% of housing stock on both Tiree in the Inner Hebrides and West Harris in the Western Isles were holiday homes.
They said the availability of affordable properties for young islanders had been a long-running problem, but was expected to worsen post-lockdown.
They pointed to reports of people across the UK looking to relocate to the Highlands and Islands, and having the means to make higher offers than local buyers.
Average purchase prices
The average purchase price for residential properties in the Western Isles have increased from £65,189 in 2004 to £123,048 last year, according to the Registers of Scotland.
For Argyll and Bute – which includes the Inner Hebrides – the prices over the same period have risen from £110,691 to £173,470. In the Highlands, which includes Skye, prices rose from £107,639 to £185,178.
The Scottish average prices were £113,289 in 2004 and £181,339 last year.
The Western Island and Argyll and Bute also saw the highest proportion of cash sales of all Scotland's local authority areas in 2019-20, where about 50% of all residential sales were cash sales.
'Positive action'
The letter said: "Part-time residencies do not sustain our communities and we should therefore ensure that houses are bought with the intention of being a primary residency.
"Inaction will allow this economic clearance to be consolidated in history."
'We bought a home through pure luck'
Christina Morrison and her husband moved back to the Western Isles from the mainland for a "rare job interview" and to raise a young family.
But they faced an uphill struggle finding a place in Uist to call their own.
"We were about to start a family and we wanted our family to grow up here on the islands and have the nice upbringing we had," she said.
"When we first moved over we had a really difficult time. We stayed in a hotel at one point and family helped out with temporary accommodation."
The couple lost out twice in bids for homes and Christina said the buyers in both instances were planning to use the properties as holiday homes.
She said: "It was just pure luck we got the house we are in now."
The couple, who were just about to become parents, were told the owners of a house down the road from where they were staying had been seen packing up their household possessions.
The house had not yet gone on the market, but the sellers were keen for a quick sale and agreed to sell it Christina her husband.
The use of the term "clearance" echoes back to the Highland clearances when tenants were evicted from land in the 18th and 19th Centuries so landlords could increase their income.
The letter suggests Uist in the Western Isles be used as a trial location where properties are advertised locally in the first instance prior to being listed on the national market.
The letter said: "A recent example of a house in Uist becoming available for rental shows the scope for positive action.
"The owner agreed that the house should first be advertised to young locals, and a number of applications were received.
"They seized this opportunity to invest in the community by offering the house to a returning young couple with three children."
The letter comes after concerns were raised that Gaelic speakers among the islands' communities could vanish within 10 years.
Researchers said daily use of Gaelic was currently too low to sustain it as a community language in the future.
The letter's signatories include Pàdruig Morrison, a Uist crofter, researcher and musician and architect and Gaelic campaigner Martin Baillie, from Skye.
Uist businesswoman Emma Axelsson and crofter Fiona NicÌosaig have also signed it.
'Build more homes'
A lack of affordable housing for islanders is recognised in the Scottish government's National Plan for Scotland's Islands, which was published last year.
The plan's consultation process had "highlighted that the availability of affordable, fit-for-purpose housing on Scottish islands presents a challenge for island communities".
The challenges include young people deciding to leave island communities and a lack of accessible and affordable housing being a "barrier" to attracting families to island communities.
In the plan, the government made a commitment to support affordable housing projects.
Gordon Macrae, of homeless people's charity Shelter Scotland, said the solution to providing housing for islanders and meeting demand from people living elsewhere in the UK wanting to move to rural areas was to "build more homes".
He added: "The problem for many parts of the Highlands, and the Borders as well, is that they have gone under-invested for so long."
Housing Minister Kevin Stewart said the Scottish government recognised good quality, affordable homes were "essential to help attract and retain" people in Scotland's remote rural and island communities.
He said the government had committed record levels of investment as part of its efforts to deliver 50,000 affordable homes, with more than 4,800 homes delivered in rural and islands areas in the first four years of the current parliament and over £50m spent on affordable housing on islands in that time.
Mr Stewart said: "While promoting rural properties to local people in the first instance clearly has merits in supporting local people to access housing, it would need to operate on a voluntary basis as the way in which an owner chooses to market their property is a matter entirely for them.
"However, we remain committed to affordable local housing solutions that allow people to stay, live and work in their communities."
Isle of South Uist

Isle of Skye
Isle of Tiree
Isle of Harris
Isle of North Uist